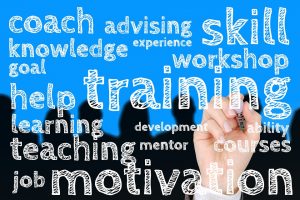 The answer to the question what is an authoring tool often left the beginners confusing, scratching their minds what it means. A new instructor in the organisation or a teacher who is using the authoring tool the first time may find it complicated. So, to get a clear picture, it is necessary to understand the whole process. 
What Authoring Tool Actually Means?
Everyone is now aware of the term e-learning where individuals learn in the form of digital content online or via software. A simple example of e-learning is watching tutorials on Youtube and then implementing the skills learned in real life. Here the creator uploads the recorded video on Youtube, which then gets published. But when we move to advanced e-learning, we come across LMS and authoring tools. Here, the content creator uses the authoring tools to design the course and individuals learn via Learning Management Systems (LMS). So, an authoring tool is a platform or software that creators use to develop content for their interested learners. 
Moving Ahead in Elearning with Authoring Tools
Creating content for learners having similar interests with the objective to train and advance their acquired skills require smart software. An authoring tool that is easy to use, flexible, gives full control, can be accessed on any device, cloud-based and yes, affordable too. You can start by trying any free or open-source authoring tools and then compare to buy the best one. But deciding the best authoring tools is not a piece of cake. If you google for top 10 e-learning authoring tools, you will find a list of hundred tools, so it is better to check detailed featured before investing. 
Elearning Industry is rapidly growing and facing tough competition in the market. As per the surveys conducted by the different agencies, it will exceed $300 billion market by 2025. So to survive in this competitive market, one needs an LMS and authoring tool that gives learners the right knowledge in an efficient way. And simulation training has proved to be the best method to develop the required skills in employees or students. 
Simulation Based Authoring Tools
Simulation based e-learning authoring tools help you develop the right content using text, images, videos, avatars, animation, interactive activities. It gives you the same environment which learners will face in work and then let them decide the best outcomes on inbuilt-scenarios.
Simulation based e-learning gives a controlled and secure environment to deal with real-life problems in a virtual environment. Designing a simulation training course requires analytical thinking, learner's behaviour, adaptability to software and much more.
These factors help in creating an effective online training simulation
Content Should Move Gradually
The course content should be designed in a manner that it develops the required skills gradually and not rapidly. Simple educational courses can directly move to assessment after a video tutorial as it is easy to adapt, but when it comes to simulation training focus should be given more on the process than the result. Like a game that involves various levels as you move ahead, the course content should be designed in the same way. So when employees progress to the next topic, it should involve the scenarios that require to implement the skills acquired in previous lessons. 
Matches With The Reality
Many content developers design simulation training programs that are far from reality and present them with complex situations. However, it should match with the realism. Build the avatars that are similar to your organization, design a space you want professionals to work in capturing even the minute details. 
Like when a mobile application is used to make a connection with other applications, The simulation training should start by teaching how to use the app, which buttons are required to make connections. After the training gets completed, giver learners a virtual platform to implement skills without any instructions.
To achieve these goals in a training program, the authoring tool should be interactive with easy drag and drop options, creating characters in minutes and scenarios that can be applied to other courses.