Since Little Man turned 1, I got rid of the massive travel system we had, and turned to my favourite stroller brand, Maclaren. Almost every parent I know has done the same thing, and gone with the same brand! Standing at the school gates, every toddler is in a Maclaren! Ours is the Techno XT and I love it. It reclines completely (so its suitable from birth) the seat is nicely padded, and even comes with shoulder pads and a head hugger. The leg rest is also extendable, so when your baby is smaller, their legs can be supported, and as they grow, you can push it back in and let them rest their feet on the footrest.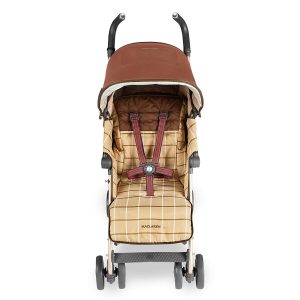 The handles are adjustable, not by a huge amount but enough to make a difference if your partner is a bit taller than you (or you have an older child who likes pushing the buggy, like I do!) It has a great 5 point harness, which is very sturdy (LM has no chance of escaping from it so that's saying something) and all the straps are adjustable so it grows with the toddler. The shopping basket comes as standard, which makes a change, and you can access it even when the seat is fully reclined (not as easily as when its upright but that's normal!) It hold a lot more than you would expect it to as well! It also comes with a raincover and an extendable hood (simply unzip the hood and it folds down even further, perfect for protecting from the sun when bubba is asleep).
It has foam filled wheels so no danger of a puncture (been there, done that, NIGHTMARE with a heavy baby, heavy buggy and a dodgy wheel that is impossible to push!) and the brakes are nice and easy to lock into place, just click it down and hey presto. I honestly cannot live without my Maclaren! Its top of the list for a reason! Now, how would you fancy winning one of these for yourself? Yup! The gorgeous people at Maclaren have given me a brand new, 2011 edition Techno XT to give away to one of my lovely readers. All you have to do is follow them on twitter and tweet the following I've entered WKKDN giveaway  If you're on facebook you can also "like" them over there!
You can chose from one of these gorgeous colourways:
That's it! That's all you have to do! It would be great if you could leave me a comment to say you've entered, just so I can keep track, and the winner will be picked on Saturday the 30th April!